How To Choose A Necklace?
Time of issue:2022-03-14
Looking for the perfect gift for the special woman in your life? You can never go wrong with a beautiful piece of jewelry...; But with so many choices, choosing the right piece can be a challenge. Fortunately, it doesn't have to be. With a little work and some smart tips, anyone can find the right necklace for her and choose a gift that's sure to be a hit with any woman.
Read on to learn what you need to know about the different necklace styles and some tips for choosing the perfect necklace for any woman in your life.
Know Your Necklace
If you're an experienced jewelry buyer or wearer, you can skip this section. However, if you are not experienced in buying jewelry, then you need to read this before you begin the process of buying a necklace for her. From strands of pearls to long chains to statement pieces, choose from a variety of necklace styles. Before you start deciding which one is right for the woman in your life, you need to understand the differences.
Some necklace styles are self-explanatory, like the classic string of pearls. Others are less so. A personalized necklace is usually a necklace with large stones, diamonds, or other embellishments. It hangs at a medium length; it's not as short as a choker, but it's also not as long as a chain or necklace designed for layering.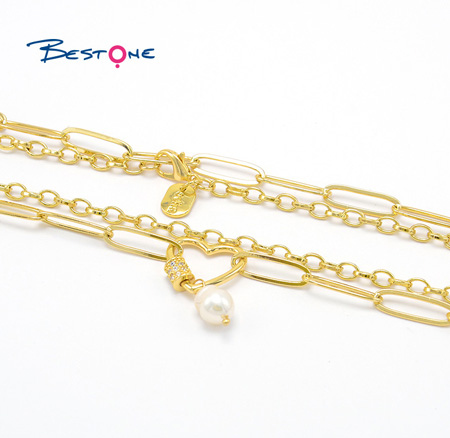 Heart Carabiner 2 Layer Gold Chian Necklace
A necklace designed for layering is another great gift option. These are long, usually thin, and delicate necklaces. They may have a few beads, diamonds, or other embellishments scattered throughout their length. If you are buying more than one of these necklaces for her, choose a different length for a dramatic look.
Another type of necklace that can make a beautiful gift is a pendant. A pendant necklace has a chain with a pendant hanging loosely from it. The pendant can contain any kind of stone, gemstone, or embellishment. The actual chain on the pendant can come in a variety of lengths.
Now that you know how to identify some popular necklace styles, it's time to start looking for the perfect gift for the lady in your life.
Choose her style
The next important detail to consider on the occasion of a gift is what the recipient's personal style is like. A very classy woman Minimalist style A flashy, colorful necklace probably won't be of much use. But a woman with a closet full of color and exciting patterns probably won't like a delicate necklace that can easily be overwhelmed by their outfit.
Choosing a necklace that fits your woman's personal style is a great way to show that you've taken the time to consider what she wants most. If you're not sure what her style is and have some time before you need to buy a gift, then you're in luck. Paying attention to the way she dresses and the type of jewelry she already owns and wears can help you get a better idea of her style.
If you are male and not familiar with jewelry types and trends, or even a woman who doesn't wear jewelry often, there are some key details you can look for to make finding the right gift easier. If the woman you're buying for wears necklaces, does she tend to wear necklaces with large pendants, colorful beads, or lots of bling? Or does she prefer something smaller, more delicate, and with a shorter hand around her neck?
If she's not wearing jewelry when you see her, you can pay attention to the type of clothes she's wearing. If she wears a lot of black and white and tends to dress more formally, then you'll want to go with more formal jewelry. If her style is colorful and eclectic, then a bright and unique necklace might be a better choice.
For more information about the customized necklaces, welcome to contact us today or request a quote.
Contact
Address: No.662, Heping West Road, Shijiazhuang, Hebei, China
Tel: +86 311 8366 0806
Fax: +86 311 8366 0808
E-mail: service@bestone.net