Why Is A Bookmark A Unique Gift For Book Lovers?
Time of issue:2022-07-11
A bookmark or rest book is a symbolic gift that can be given as a primary gift or as a secondary gift that you can give along with other gifts such as books.

Although a bookmark is a simple and symbolic gift, at the same time it is a practical gift for a book lover and you will not find any reader who does not use any bookmark, even if he has to use tissue paper as a bookmark.
Bookmarks are available in a variety of shapes, so you can buy metal or leather bookmarks to give as formal or informal gifts, and they usually come in a special box suitable for giving as gifts ...... to other materials.
If the gifted person is a girl, you can choose special shapes suitable for gifts, such as leaves, feathers, or bookmarks with colorful doodles.
You can also put together a group of bookmarks since reading enthusiasts usually read multiple books at the same time; so they are well aware of the importance of bookmarks. They will find it to be a special and symbolic gift.
Alternatively, if you don't have the budget to buy a gift, you can think of it as a great DIY gift where you can make your own custom leather or sturdy bookmarks.
If you are not sure about the taste of the gifted person, you must avoid bookmarks with quotes that may not express or match the beliefs of the gifted person, and it is best to avoid bookmarks with images or pictures of those with different tastes that are not suitable for gift-giving, bookmarks with sloths, gifted people who are a very active person or adventure lover.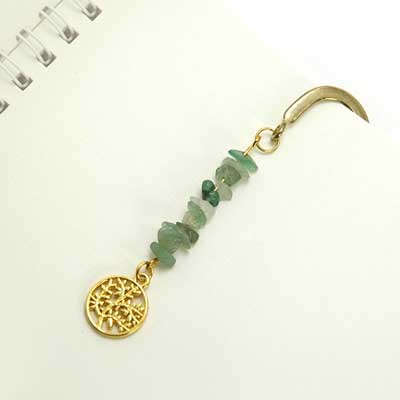 Bookmark
Unique bookmark shapes
Usually most bookmarks have the same shape, but you can make your gift stand out by presenting it with a completely different type of shape, such as a shark, a sword, a flower, or even a rug ...... Different from what someone with a gift might have.
Although there are hundreds of bookmark shapes, we have found feather metal bookmarks like the one below to be one of the best and finest bookmark shapes.
Occasions when bookmarks can be given
Thank you gifts: Since thank you gifts are usually symbolic gifts, you can consider a bookmark as one of the good symbolic gifts for readers and book lovers.
Friendship gifts: bookmarks are not expensive gifts and are a good choice for friends.
Housewarming: If the gifted person is a reader, then his new house must have a library, which will make the bookmark a suitable and available gift for all family members.
Just because gift: bookmarks are great gifts for people who love books for any reason.
Who you can give bookmarks to
Bookmark friends: Definitely a great gift for school or college friends as they can use it with their study books and if you are giving it to a girl then you can choose feminine ones.
Spouse: Without a doubt, if your spouse is a reader, it is romantic to give him a beautifully shaped bookmark, you can choose those with words or shapes that express your love.
Bosses, colleagues: You can consider a bookmark as a formal gift for your boss or colleagues and it is a great choice for your budget. In this case, a metal or wooden or leather bookmark is the perfect choice, and it usually comes with a nice box as a gift that you can.
Parents: A bookmark is a great choice as a gift from your son to your parents, especially if you are young and don't have a big gift budget. If you like to display colorful and inspiring paper bookmarks, then you can choose a set of bookmarks instead of just one.
Grandparents: Since older people who like to read usually have more time to read, then this would be a good gift for them, especially if you choose an attractive one in leather or metal.
Contact
Address: No.662, Heping West Road, Shijiazhuang, Hebei, China
Tel: +86 311 8366 0806
Fax: +86 311 8366 0808
E-mail: service@bestone.net