What Is the Perfect Gift for Christmas And New Year?
Time of issue:2022-12-20
From whimsical to glamorous to classic, the best Christmas earrings cover all aspects of fashion, making it easy to find a pair to match your style (or the style on your shopping list). You can pair them with stud or dangle earrings; go for downright Christmas-themed earrings featuring Santa, reindeer and Christmas trees, or go for something else that brings a more subtle sense of cheer, such as a set of sparkly studs that feel just right for New Year's Eve celebrations. Some of these Christmas earrings have more of an overall winter theme so can be worn after the holidays.

Who are you buying Christmas gifts for?
When buying a Christmas gift, it's certainly important to consider who you're buying for. It's natural to buy different things depending on whether you're buying for a man or a woman, but buying men's jewellery as a gift is no longer taboo. Consider a watch, a set of cufflinks or a ring.
Also, look at the person's style and the jewellery they already wear. Is it more modern or more classic? For example, someone who wears a lot of red gold will be looking for a vintage style. These days it is easier to incorporate precious metals, but if the person is already wearing striking jewellery, you may be better off choosing a slightly more understated gift.
You could also follow up with a precious gift. For example, a stackable ring to match the ring you gave her for Valentine's Day.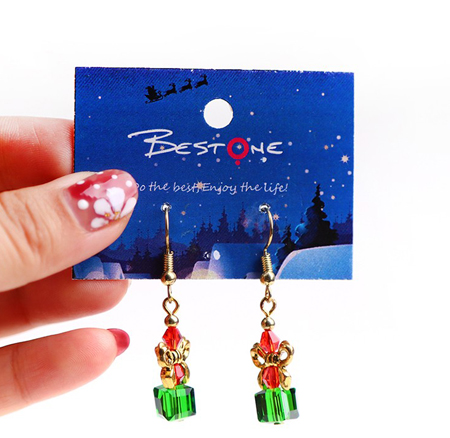 Christmas Acrylic Jingle Bell Earrings

What would be her ideal Christmas or New Year gift?
You would do well to pick jewellery personalised to the personality and style of your wife, mother or aunt. We offer you some sources of inspiration.
What is the perfect gift for Christmas and New Year?
Anyone who thinks that diamond jewellery as a special Christmas or New Year gift is only for women is wrong. Today, men can easily wear a jewellery set with diamonds. Influenced by stars such as Johnny Depp, Ed Sheeran and David Beckham, jewellery is becoming increasingly popular among men.
Jewellery for children
A diamond bracelet or a pair of earrings are ideal Christmas accessories. How about a beautiful pair of diamond studs as their first earrings? A gift they can enjoy for years to come. Diamond studs are popular with young and old alike as they suit all kinds of outfits from classic to luxurious. For your child, however, you should place them on the smaller side. To suit her tastes, you can also choose from a variety of diamond shapes.
White gold or platinum studs with white or colourless diamonds never go out of fashion. You can also choose dangling earrings, but be careful not to get in the way when your child is playing with them.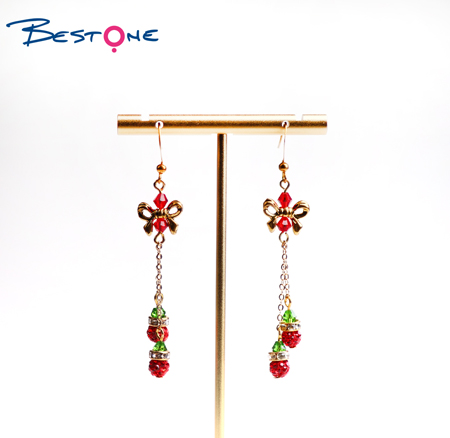 Christmas Acrylic Bow Earrings
Personalise your gift
There are many ways to personalise your Christmas jewellery.
You can have the inside of a ring or bracelet engraved with an inscription. So you can add a personal message, an important date or a motto to add wonderful meaning to your gift. You can also convey a lovely message with a birthstone. Choose a stone that matches her birth month.
Don't you think that's personal enough? Then customise a piece of jewellery or design something yourself. You could have your wife's name engraved on a personal locket pendant or design a ring that perfectly matches her taste. Do not hesitate to ask the Bestone experts for style advice.
What jewellery will you buy for yourself to shine between Christmas and New Year?
New Year's Eve is the perfect night to wear sparkling diamond earrings. As long as the sparkle is high enough, the studs are festive enough on their own. A second option is an eye-catching pair of earrings. After all, you can dress up for Christmas and New Year's Eve!
It doesn't matter what you plan to wear. A sexy dress or a stylish jumpsuit? Earrings can be worn with any outfit.
Contact
Address: No.662, Heping West Road, Shijiazhuang, Hebei, China
Tel: +86 311 8366 0806
Fax: +86 311 8366 0808
E-mail: service@bestone.net