The Ultimate Beads Guide
Time of issue:2023-01-04
Beads come in all shapes and sizes; they can be small or large and are made from all sorts of strange and wonderful materials. If you find yourself a little confused by the vast amount available, read on to find out more about the types of beads available.
Stone Beads
Stone beads are available in irregular shards, blocks, faceted rounds and smooth rounds as well as many other cut shapes. They are dense and heavy compared to other materials and give a lovely warm feel when worn close to the skin. The threading holes can be very small, so it is vital to check this before buying if possible. Generally speaking, standard round and oval sizes tend to stop at around 4mm, 5mm, 6mm and 8mm. Genuine stone beads, especially of the semi-precious variety, can be very expensive, so this is a factor to consider.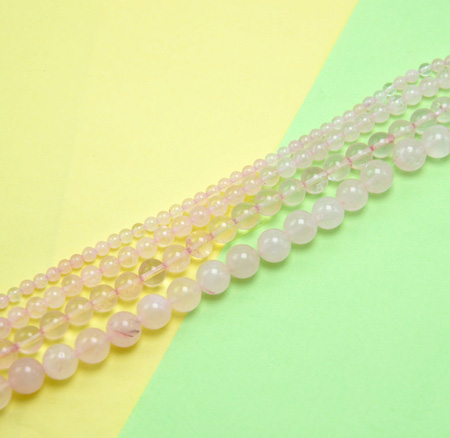 Rose Quartz Gemstone Loose Round Beads
More irregular one-off designs can be very large, sometimes 3cm to 4cm wide. You may have seen larger flowers or butterflies made from rose quartz, clear quartz or onyx, often cheaper stones that are in good supply. Stone beads are usually sold in 16-inch strands (although this may vary slightly), so the smaller the bead, the more you get. Prices depend on the type of stone and the finish. You should expect to pay more for multi-faceted beads, while chipped and chunky beads may be relatively inexpensive.
Glass beads
Glass beads are one of the largest categories of beads available and include everything from tiny seed beads of just a few millimetres to hand-blown lamp beads of an inch or two. They can be clear or opaque. Some are decorated on the inside (e.g. with a crackle effect or colour stripes), while others have a coloured coating on the outside, often in iridescent colours, to add shine. Glass beads can be either smooth or multi-faceted, or in various pressed shapes made in a mould. Crystal beads are very popular as they contain extra lead and produce the most amazing sparkle and brilliance. Prices vary greatly, depending on size, quality and the manufacturer's method.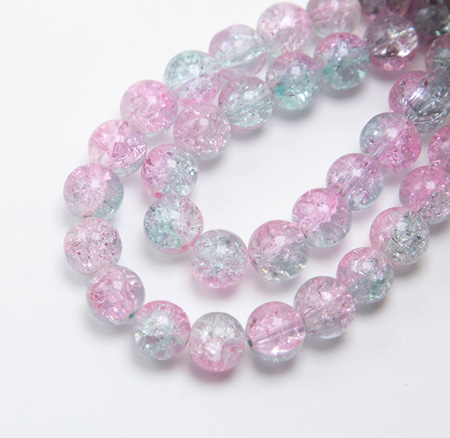 Pink and Blue Crackle Beads Round Glass Beads
Ceramic and polymer clay beads
Ceramic beads come in many different forms, are usually glazed and are often coated with detailed designs. (The glaze is essential to protect the delicate surface). Polymer clay beads are moulded into a variety of shapes and do not require painting as the clay is already coloured. Designs can be glazed or unglazed but do not require a protective surface. Ceramic beads can be very traditional, with some originating from China and India, while polymer clay examples are often more original. Designs can be abstract or figurative and therefore vary greatly. They are usually sold in small packs of 5 or 10.
Plastic Beads
Plastic beads are often easily available and sold in craft shops and supermarkets. They are one of the most cost-effective options and are usually sold in large packs of 100 or 500. Plastic beads are light and bright, making them ideal for use by children. Plastic beads made in a mould usually have a visible seam around the centre and often have a large central threading hole. Available in clear and opaque finishes, plastic beadwork does not have the shine or sparkle of the glass but is ideal for fun elasticated bracelets worn layered with other materials.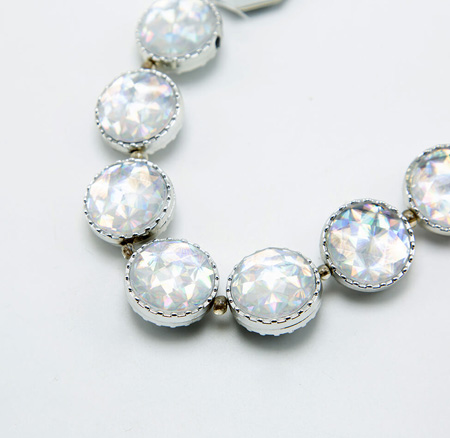 Crystal Faceted Cabochon Acrylic Lentil Beads
Metal beads
Metal beads are usually hollow and made from thin sheets of metal stamped into a mould. They are available plain, highly polished or patterned, often ribbed, fluted or embossed. Enamel beads have a metal core. Materials include base metals, precious metals and electroplated metals and are available in a variety of silver, gold and antique finishes. Sizes range from 2 mm to 16 mm (approx.) and prices depend on material and size.
Wooden Beads
Like plastic, wood beads are very lightweight and are usually sold in simple shapes such as round, oval, tubular or circular. The wood is either sold in its natural state or is dyed in bright colours, so using the same material can produce very different effects. The threading holes tend to be on the larger side, making them ideal for use with leather cords and perfect for little hands! Wooden beads are often thick, so larger sizes can be found for free. Sold in larger multi-piece packs or 16-inch strings.
These form the basic category of beads available. Of course, there are many more specialist designs, variants and niche products and you can also find these basics at all the bead suppliers around the country, so there is plenty here to help you get started. Check out https://www.bestonejewelry.com/beads.
Contact
Address: No.662, Heping West Road, Shijiazhuang, Hebei, China
Tel: +86 311 8366 0806
Fax: +86 311 8366 0808
E-mail: service@bestone.net