What Is the Benefit of Using Face Roller?
Time of issue:2022-08-15
Your skincare routine may start with cleansers and end with moisturizers, but what happens in between these two very crucial steps is equally important. One intermediate step that many beauty enthusiasts turn to for its facial sculpting benefits is facial rolling. Either way, using a facial roller is both effective and soothing, and has a host of benefits that support its use.
If you've used one, you already know why: they feel great! Skin rollers are the perfect way to cool and calm your skin, giving you a mini self-care moment.
But what exactly does a facial roller do? What do you need to know about how to use a facial roller? Let's break it down.
Content
Do facial rollers really work?
What do face rollers do?
How do I use a Rose Quartz Face Roller?
How long should you roll with the Rose Quartz Face Roller?
What should I do after the Rose Quartz Roll-On?
Where to buy rose quartz face rollers?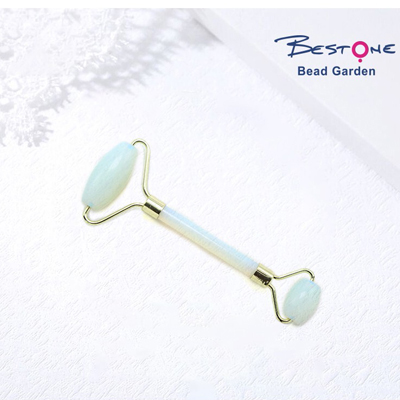 Opal Facial Roller Skin Care Beauty Product
Do facial rollers really work?
The answer is: yes when done correctly. It is important to move up and out to remove toxins from dull skin and promote lymphatic drainage. Facial rollers are an alternative to manual facial massage and over time can help soften facial muscles. After all, just as muscles in the body can become tight, so can the muscles in the face, and facial rollers (like exercise) can help improve their appearance.
What do face rollers do?
One of the biggest benefits of a facial roller is that it makes massage easy — and that's a VERY good thing. Any time you massage facial tissues, you increase circulation. That's important because, while your heart actively pumps blood through your circulatory system all the time, your lymphatic system can be a little slower.
Your lymphatic system protects you from infection and disease by trapping and destroying anything harmful. It carries all this waste and bacteria out of your body through lymph fluid, which often flows a little slower and may even get stuck from time to time. The good news? Our lazy lymph flow can be helped along manually by massage! That's why a cooling roller for faces yields all kinds of badass benefits, including brightening, depuffing, and contouring your face naturally. Buy Face Rollers Now.
How do I use a Rose Quartz Face Roller?
Using rose quartz face rollers requires a clear set of instructions. There is a right and wrong way to roll. While rose quartz face rollers are inherently cool, many hardcore fans swear by putting their gadgets in the fridge for 30 minutes before starting the rolling process. This provides an enhanced cooling effect that's perfect for de-stressing, energizing, and overall mimicking a spa-like ritual.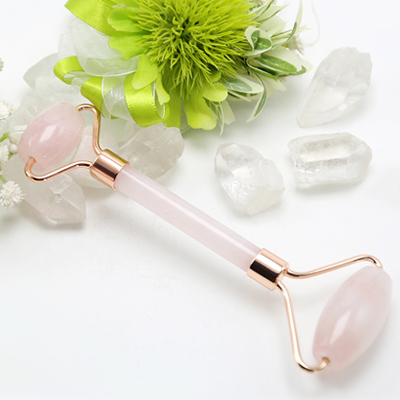 Rose Quartz Facial Roller
Most Rose Quartz rollers are dual-ended, with the larger side used on areas such as the face, forehead, neck, and décolleté, and the smaller end best suited for areas such as around the eyebrows, jawline, chin, and under-eye area. To begin using the Rose Quartz Facial Roller, make sure your skin is clean and patted dry. Apply your favorite facial oil or serum and roll your face in upward and outward strokes, starting from the nose. As a general rule of thumb, your movements should go from your nose and the center of your face to your hairline and ears. You should also always roll in one direction and avoid moving the roller back and forth. Continue to check each area until your facial oil or serum has been completely absorbed (usually about five rollers are all that are needed). The pressure should be comfortable and moderate - not too hard and not too soft.
How long should you roll with the Rose Quartz Face Roller?
From start to finish, the face and neck rolling process should take no more than five minutes, but even if you don't have that much free time, you can still reap the benefits of de-puffing for two to three minutes if you use a massage roller. You can incorporate this practice into your skincare routine 2 to 3 times a week or nightly for best results. And, because you are applying oil or serum, this allows for better absorption of the product.

What should I do after the Rose Quartz Roll-On?
After using your Rose Quartz Facial Roller, your skin is ready to receive nourishing beauty products. If you didn't use a facial oil or serum during your rolling session, now is the time to use it. Then, apply your moisturizer. To keep your Rose Quartz roller clean, gently wipe away any oils or serums with a soft towel and warm water (avoid using hot water as this can damage the stones). You can also use a mild soap or cleanser to rinse off any stubborn product residue. Let it dry on the towel and store it in the refrigerator or in a cool, dark place.
Where to buy rose quartz face rollers?
Bestone is a professional Jewelry manufacturer, with a certificate of ISO9001 /BSCI/Sedex/ Disney/Walmart Audit, etc. BESTONE provides one-stop services to many global chain stores. 70,000 SKUs in the showroom and sufficient inventory in the warehouse to keep flexible MOQ workable.

More than 10 designers and 200 skillful workers, keep updating new products every season even every month. More than 60 containers are shipped out all over the world every year. 24 hours for initial samples and 2 weeks for bulk production. If you want to get more information about the wholesale rose quartz face rollers price, welcome to contact us today or request a quote.
Contact
Address: No.662, Heping West Road, Shijiazhuang, Hebei, China
Tel: +86 311 8366 0806
Fax: +86 311 8366 0808
E-mail: service@bestone.net