The Ultimate Buying Guide to Necklace
Time of issue:2022-11-08
The right necklace can be worn with any outfit and can create a focal point on the body. This science is an amazing study of body proportions and we will guide you through how it works. The first step is to understand standard lengths and then learn how these different necklace lengths affect your unique body proportions.
A guide to standard necklace lengths
Necklaces are usually sold in even inch lengths. Most guides will show where a necklace length in inches falls on the 'average' body, but this doesn't necessarily tell you where it is likely to fall on your body! For example, a 16 inch necklace 'traditionally' wraps around the base of the neck like a collar. On a petite person, however, it hangs loosely around the neck and falls right at the collarbone. On a tall or plus-size person, it may sit higher like a necklace.
Rather than using length as a guide, I prefer to think of each length as a body position unrelated to a particular length, as each person does vary in length. The list below shows where each length is going to hit, meaning that these areas will be highlighted by wearing a necklace that ends there.
Around the neck (traditionally 14 inches) wrapped tightly around the neck like a choker.

At the base of the neck (traditionally 16 inches) it wraps around the base of the neck like a collar.

The clavicle (traditionally 18 inches) sits elegantly on the collarbone.

Between the collarbone and the bust (traditionally 20 inches) Falling in a flat area between the collarbone and the bust.

The top of the bust (traditionally 22" - 24") sits at or slightly above the top of the bust.

Mid-bust (traditionally 26"-28") falls in the mid-bust at the nipple

Waist (traditionally 30"-36") natural waist.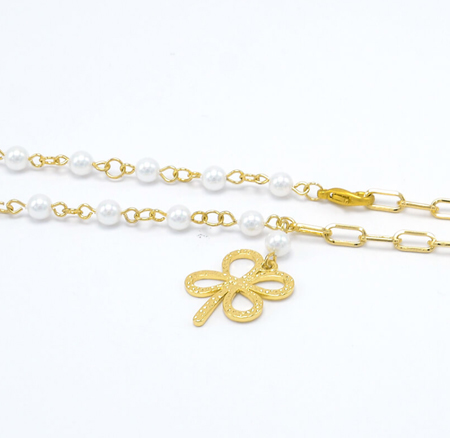 Gold Chian Necklace
Factors to consider choosing right necklace length
When choosing a length for a necklace, it is important to consider features such as neck size, body shape, face shape as well as the size and shape of the necklace.
Necklace shapes
Pendant necklaces are V-shaped, creating a more vertical line that lengthens the area they cover and is ideal for adding length to the neck or the entire frame. the V shape also breaks up and softens strong shoulders or a large bust. Traditional round necklaces have a more horizontal line and shorter versions tend to add interest and volume to small shoulders or small busts.
Necklace size
Before buying any necklace, take a moment to measure around your neck and all the way down to your preferred focal point. Using a cord or other necklace is an easy way to do this. Write down your measurements. For chokers, add two inches to the neck measurement to get a comfortable length. For pendants or name necklaces, be sure to include the length and width of the pendant in your measurements. Adding approximately four inches to the measurement is ideal.
Face shape
Another use for a necklace, apart from being a fabulous accessory, is that it actually helps to flatter your face. As with body shape, necklaces can help show off your strongest facial features and change your facial expression. Women with round faces should avoid wearing short necklaces or necklaces as they tend to accentuate the roundness of the face.
Oval faces can take advantage of any necklace trend, as they can wear almost any shape, length or type of necklace.
For those with long faces who want to expand the shape of their face, opt for a shorter necklace. A short, round necklace will not add length.
Heart-shaped faces are suitable with short necklaces or any short necklace as they create the illusion of fullness and balance out a narrow jaw.
Contact
Address: No.662, Heping West Road, Shijiazhuang, Hebei, China
Tel: +86 311 8366 0806
Fax: +86 311 8366 0808
E-mail: service@bestone.net