How to Choose the Perfect Beads for Your Jewelry?
Time of issue:2022-04-15
Choosing beads for your project is a critical part of the bead-making solution. This is because beads are an integral part of beaded jewelry. It's the first or second thing that gets people's attention. This does not mean that you will ignore other parts such as wires, jewelry, etc. These are also important components to pay attention to - but in this article, we'll just focus on choosing beads and items that match your style!

1. Know your project
There are countless beads available in interesting and diverse shapes, sizes, colors, and designs. Choosing the perfect bead from the many choices can be a nightmare, but there are ways to greatly reduce the options and come up with a bead that fits the project perfectly.
The question you need to ask yourself is "What type of project or beadwork do I want to make? Is it an accessory you want to use at an elegant event or is it everyday jewelry?
Assuming you are actually going to make a beautiful necklace, your choices would be pearls, Swarovski crystals, gold, silver, and other chic beadwork. As may have been noticed, the bead option is perfect for the hypothetical project - making the choice of beads more filtered and convenient. While there are tested and proven beadings that can be matched to certain outfits and occasions, it's not a bad idea to try different bead combinations.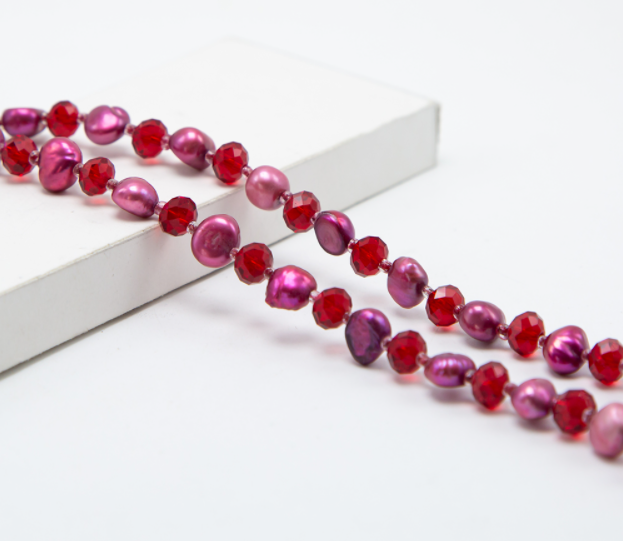 Red Faceted Rondelle Glass Beads and Dyed Pearl Beads
2. Sizes
Various jewelry beads come in different sizes, so it's important to try some samples and see if it fits your project and tastes. You can also use the sizing chart above as a reference.
Another thing, seed beads are mainly used for intricate projects but be careful, these beads are especially small; that's why you need to use a specific wire size for this group of beads, not the common wire size used for regular beads.
3. Primary beads
Some beaders like to include a "primary bead" in their designs. The primary bead or focal bead is simply the bead used as the "primary" bead because it stands out in the design, or the recurring pattern focuses on the primary bead. This is actually a great design technique, but you need to double-check that the focal bead blends in perfectly with the overall design.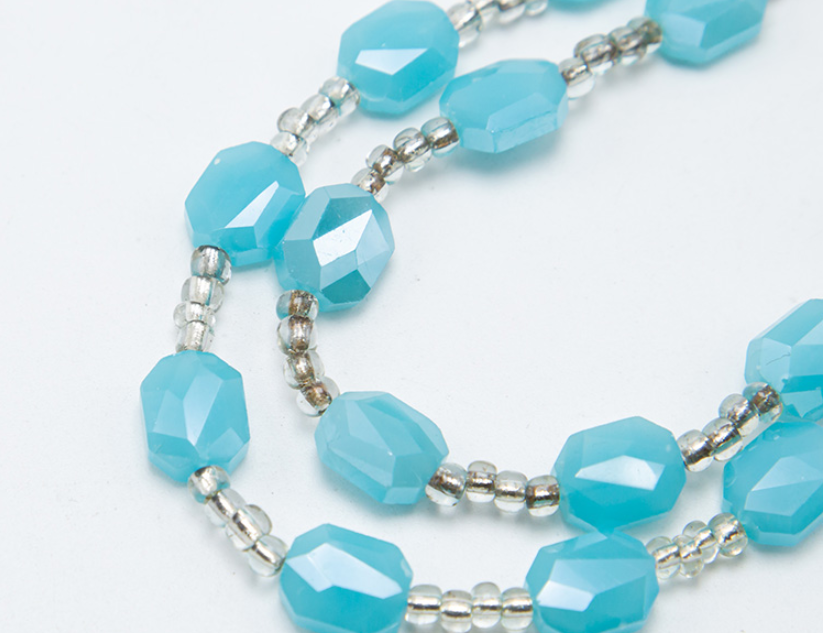 Opaque Light Blue Faceted Polygon Beads
How to organize beads for jewelry making
Choose a room, table, desk, or drawer that suits you and your hobby. Sort your supplies and label each box. There are a variety of jewelry-making storage ideas for you to choose from. An example includes inexpensive bins and boxes that you can get that already have dividers in them to easily store a variety of beads, findings, etc. Find the system that works for you and stick with it for fun!
At BESTONE, we are proud to bring high quality natural gemstone beads from around the world to your doorstep. Browse our selection today to find the perfect piece for your collection or next project. Contact us for a quote and custom service.
Contact
Address: No.662, Heping West Road, Shijiazhuang, Hebei, China
Tel: +86 311 8366 0806
Fax: +86 311 8366 0808
E-mail: service@bestone.net