How to Choose Earrings for a Gift?
Time of issue:2023-09-23
Selecting the perfect pair of earrings as a gift can be a thoughtful and cherished gesture. Whether you're choosing earrings for a friend, family member, or significant other, here are some steps to help you make the right choice:

1. Consider the Recipient's Style:
Take note of the recipient's style and preferences when it comes to jewelry. Are they more inclined toward classic, modern, bohemian, or statement pieces? Observe the type of jewelry they typically wear to get an idea of their style.
2. Determine Their Metal Preferences:
Some people prefer specific metals for their earrings, such as gold, silver, rose gold, or platinum. Check if the recipient has a preference for a particular metal, as this will help narrow down your options.
3. Think About Earring Type:
Earrings come in various styles, including studs, hoops, dangles, and chandeliers. Consider what type of earrings the recipient typically wears or if they have mentioned wanting a specific style.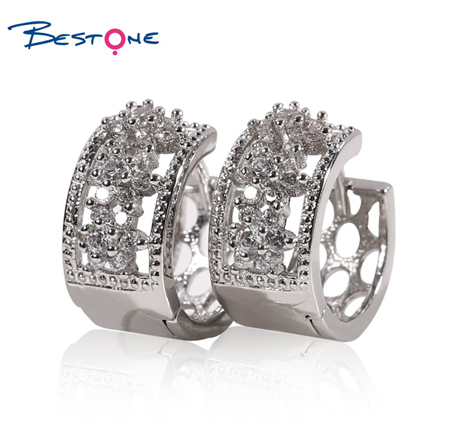 4. Take Allergies into Account:
Be mindful of any allergies the recipient may have to certain metals. If you're unsure, it's generally safe to choose hypoallergenic materials like surgical stainless steel or titanium.
5. Gemstones and Birthstones:
If the recipient has a favorite gemstone or birthstone, consider earrings featuring that stone. Birthstone earrings can be especially meaningful and personalized.
6. Assess the Occasion:
Think about the occasion for which you're giving the earrings. Are they for a birthday, anniversary, holiday, or just a thoughtful gesture? Choose earrings that align with the significance of the occasion.
7. Budget:
Determine your budget for the gift. Earrings come in a wide range of price points, so knowing your budget will help you narrow down your choices.
8. Size and Weight:
Consider the size and weight of the earrings. Some people prefer lightweight and delicate earrings, while others like more substantial and bold pieces. Make sure the earrings match the recipient's comfort level.
9. Personalization:
If you want to add a personal touch, consider customized or personalized earrings. Engraved initials, names, or special dates can make the gift even more meaningful.
10. Gift Packaging:
Presentation matters. Look for earrings that come in a beautiful gift box or packaging. A well-presented gift adds to the overall experience.
11. Seek Advice:
If you're unsure about the recipient's preferences, don't hesitate to seek advice from someone close to them, such as a family member or friend. They may have valuable insights.
12. Return and Exchange Policy:
Check the retailer's return and exchange policy in case the recipient wants to exchange the earrings for a different style or size.
13. Purchase from a Reputable Retailer:
Choose a reputable jewelry retailer with a good track record for quality and customer service. Read reviews and research the retailer's reputation before making your purchase.
Remember that the thought and effort you put into choosing the perfect pair of earrings will be appreciated by the recipient. Personalizing the gift to match their style and preferences demonstrates your care and consideration, making it a meaningful and memorable present.
Contact
Address: No.662, Heping West Road, Shijiazhuang, Hebei, China
Tel: +86 311 8366 0806
Fax: +86 311 8366 0808
E-mail: service@bestone.net