Does Stainless Steel Jewelry Turn Black?
Time of issue:2023-02-07
Stainless steel is a popular jewellery material because it is inexpensive and durable. Unlike other softer materials, it can withstand most everyday activities without suffering from corrosion or scratches. In addition, stainless steel jewellery does not tarnish, so it can look great even with minimal maintenance.
It is also a great choice for those who are allergic to certain metals or prefer to avoid gold and silver. There are many advantages to stainless steel jewellery, but here are some things you need to know before you buy stainless steel jewellery.
What is stainless steel?
Stainless steel is a product that is durable and retains its lustre. It was invented in 1912 by the British metallurgist Harry Brearley by combining chromium and steel. Stainless steel's resistance to corrosion is a key reason for its ubiquity in the kitchen - it can withstand natural acids and requires no polishing. It is a stunning jewellery metal and there is a reason why stainless steel jewellery does not tarnish.
In addition to its durability and low maintenance, stainless steel is a great material for jewellery as it can come in a variety of finishes including brushed, engraved, matt and shiny. It is also often used in interior design, street furniture and kitchen tools.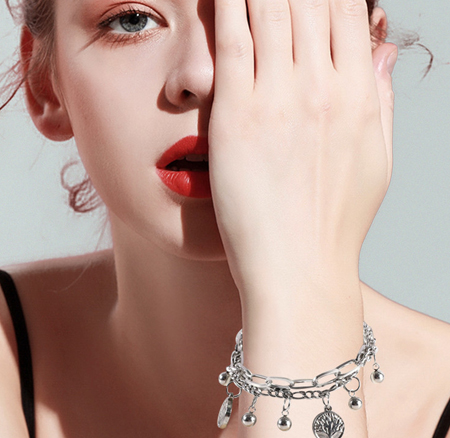 High Quality 304 Stainless Steel Bracelet
Will stainless steel jewellery last?
Stainless steel does not need to be plated as this amazing metal is non-porous. The beauty of this metal in jewellery making is that it will never lose its shine, tarnish, rust or fade because of the chrome layer inside. This makes it the ideal metal choice for stainless steel charm bracelets, stainless steel necklaces and stainless steel earrings. All gold-plated metals will eventually flake and fade, so don't believe them when they tell you that gold-plated stainless steel will never tarnish, it does. Stick with real stainless steel and your jewellery will last for years to come. Given its design, you can wear your stainless steel jewellery anywhere without worrying about tarnishing or corrosion. And of course, stainless steel jewellery does not tarnish. Thanks to the durable material and its reliability, stainless steel is a good investment and it promises to pay off handsomely.
Does stainless steel jewellery tarnish?
Stainless steel is a hard metal that resists scratches and tarnishing thanks to an invisible layer of chromium that prevents oxidation. Stainless steel is a solid silver colour - with a warm grey appearance, similar to platinum - and never tarnishes. This makes stainless steel the perfect metal for making long-lasting jewellery.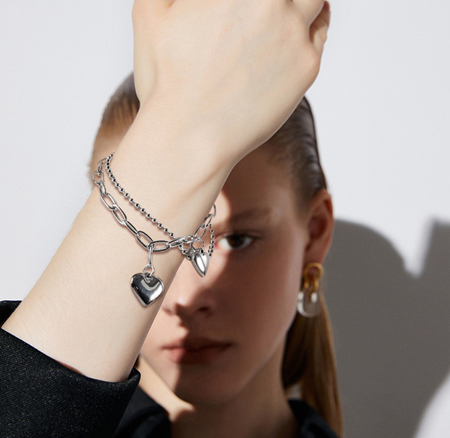 Fashion 304 Stainless Steel Jewelry Bracelet
Stainless steel or sterling silver?
My clients want more affordable jewellery, a sterling charm can cost $25-55, which means a high price point for sterling, and the fact that it will lose its lustre and require maintenance is the reason I started looking for alternative metals in which to display my jewellery in the late 1990s. Keep in mind what you want to get out of your jewellery. Ask yourself questions such as whether you are more interested in value, or how your jewellery wears over time.
Is stainless steel jewellery safe and allergy-proof?
Generally speaking, the fillings in the jewellery, rather than the metal itself, are the cause of allergic reactions to the jewellery. Stainless steel does not contain allergenic fillers such as nickel, brass or copper and is therefore a hypoallergenic metal, which means that your chances of having an allergic reaction are minimal.
Will stainless steel turn my wrists green?
For the same reason that stainless steel is a hypoallergenic metal, it will not oxidise and turn your wrists, neck or fingers green. Generally speaking, the green colour is caused by acids in your body reacting with copper, brass or nickel. These 'filler' metals are usually found in cheaper silver-plated artificial jewellery. Stainless steel, because it is not plated, means that these metals are not present in my jewellery.
If you're looking to invest in stainless steel jewellery and aren't sure which stainless steel jewellery is right for you, welcome to contact us.
Contact
Address: No.662, Heping West Road, Shijiazhuang, Hebei, China
Tel: +86 311 8366 0806
Fax: +86 311 8366 0808
E-mail: service@bestone.net