Buying Guide for Gold Chian Necklaces
Time of issue:2023-03-23
If you're looking for a timeless and classic piece of jewelry that will never go out of style, a gold chain necklace is a great choice. Gold has been used for jewelry-making for thousands of years and is a symbol of luxury, elegance, and prestige. However, buying a gold chain necklace can be an intimidating task, as there are many different styles, types of gold, and price ranges to choose from. In this buying guide, we will cover everything you need to know before purchasing a gold chain necklace.
Types of Gold
Gold is measured in karats, which indicates the purity of the gold. The most common types of gold used in jewelry are 14k, 18k, and 24k. 24k gold is the purest form of gold, but it is also the softest and most malleable, making it not ideal for jewelry that will be worn frequently. 18k gold contains 75% gold and 25% other metals, making it more durable and less expensive than 24k gold. 14k gold contains 58.3% gold and 41.7% other metals and is the most popular choice for gold chain necklaces because it is affordable, durable, and has a rich color.
Types of Chains
There are many different styles of gold chain necklaces, each with its own unique look and feel. The most popular styles of chains are:
Cable chain: a classic and versatile chain made up of oval or round links that are all the same size.

Figaro chain: a chain with flattened links in a pattern of three small links followed by one longer link.

Rope chain: a chain made up of several small links twisted together to form a rope-like texture.

Box chain: a chain made up of square links that fit together perfectly to form a smooth, uniform chain.

Curb chain: a chain with interlocking links that lie flat against each other, creating a twisted and textured appearance.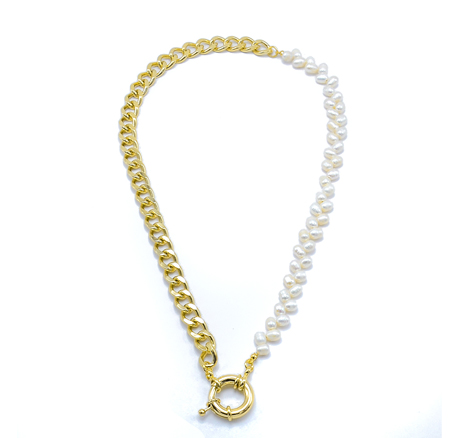 Length of Chain
The length of a gold chain necklace can drastically affect the look and feel of the piece. The most common lengths for gold chain necklaces are:
Choker: 14-16 inches

Princess: 18 inches

Matinee: 20-24 inches

Opera: 28-34 inches

Rope: 36 inches or longer
When choosing the length of your gold chain necklace, consider the style of necklace you prefer and the outfits you will be wearing it with. A shorter chain will draw attention to your neck and can be worn with casual or formal attire, while a longer chain can add a touch of elegance and glamour to any outfit.
Clasp Type
The clasp of a gold chain necklace is an important component as it is responsible for keeping the necklace securely fastened around your neck. The most common types of clasps are:
Spring ring clasp: a small, circular clasp that is easy to use and secure.

Lobster clasp: a larger, more durable clasp that is also easy to use and secure.

Box clasp: a clasp that slides into a box-shaped opening and is secured by a latch.
When choosing a clasp for your gold chain necklace, consider the size and weight of the necklace, as well as your personal preference for ease of use and security.
Quality and Price
The quality and price of a gold chain necklace are determined by several factors, including the type of gold, the style of the chain, the length of the chain, and the weight of the necklace. The price of a gold chain necklace can range from a few hundred dollars to thousands of dollars, depending on the quality of the materials and the craftsmanship.
Contact
Address: No.662, Heping West Road, Shijiazhuang, Hebei, China
Tel: +86 311 8366 0806
Fax: +86 311 8366 0808
E-mail: service@bestone.net